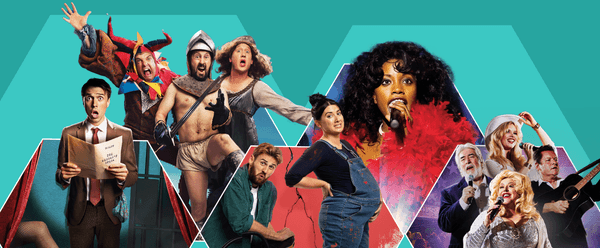 SPRING SEASON 24
About our events
Our Spring 2024 programme is here and it includes some exciting in-house productions, the first of which will be a world premiere!
Friday 3 November at 10am
GENERAL ON SALE
Wednesday 8 November at 10am
Chris Chibnall (Worst Wedding Ever) will return to Salisbury Playhouse to debut his new original comedy, One Last Push, about the unexpected and often hilarious dramas of childbirth and we will also stage Sir Alan Ayckbourn's fabulous play, A Chorus of Disapproval. There is also a Spring Multi-Buy available if you buy tickets for these two productions at the same time, meaning you can save 15% on the total price. If you're a Supporter, you will save 20%.

In late July, our Youth Theatre Stage 65 will put on an atmospheric production of Philip Pullman's Ghosts and Grimm Tales.

You will find an eclectic mix of other events, such as The Opera Boys: A Night at the Musicals and British poet and Sunday Times bestseller Hollie McNish with her 'Lobster Tour', which supports her new book Lobster: and other things that I'm learning to love. Other highlights include a selection of brilliant tribute acts, such as New Purple: A Celebration of the Music of Prince, and big names in comedy like Omid Djalili, Paul Foot and Alasdair Beckett-King.

General sale opens at 10am on Wednesday 8 November, but if you want to book even sooner you can sign up as a Supporter and access our priority booking from 10am on Friday 3 November.
We are also excited to announce the return of the Salisbury International Arts Festival on 26 May - 9 June!

List of Events
Friday Under 5s: Spring 2024

5 Jan - 22 Mar

Mind The Gap: Spring 2024

12 Jan - 22 Mar

Older People

Creative

Social

Omid Djalili: Work In Progress

–

Legendary

Stand-Up

Experimental

BREATHE Academy Workshops

–

Fastlove: The Tribute to George Michael

Nostalgic

Tribute act

Night out

The One Like Judi Love

Fresh

Charismatic

Hilarious

Barnstormers Comedy January 2024

Night-out

Laughter

Wisecracks

Andy Parsons: Bafflingly Optimistic

New Purple Celebration: The Music of Prince

Home Education Workshops | Spring 2024

–

Young People

Exploring

Arts

Fascinating Aïda: The 40th Anniversary Show!

Outrageous

Hilarious

Poignant

Alfie Moore: A Face for Radio

Surprising

Comedy

Charismatic

Friend (The One with Gunther)

Dance SIX-0 Open Classes: Spring 2024, Term 1

3 Jan - 7 Feb

Schools and Culture Networking event