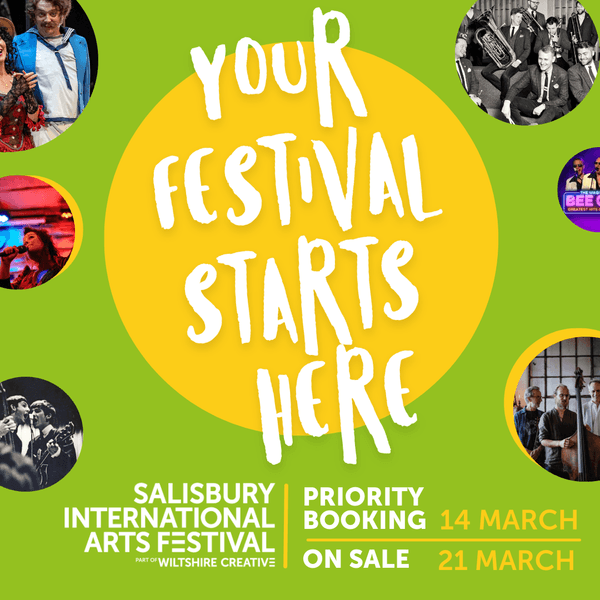 Your Festival Starts Here!
News
8 Mar 2023
News Story
WE ARE THRILLED TO ANNOUNCE PROGRAMMING FOR SUMMER FESTIVAL SEASON INCLUDING SALISBURY INTERNATIONAL ARTS FESTIVAL 2023
We are excited to announce our Summer Festival Season, this year incorporating Salisbury International Arts Festival 2023.

Highlights of this year's festival include:
Opening the festival will be our outdoor production of The Tempest, Shakespeare's classic tale in Churchill Gardens from 24 May to 4 June
Vocal ensemble Siren present Doomsday, performed beneath and inspired by St Thomas' medieval Doom painting, at St Thomas' Church
Opera della Luna returns to the Festival with Gilbert and Sullivan's much-loved HMS Pinafore at Salisbury Playhouse
Festival favourites The Lord Chamberlain's Men return in their outdoor, all-male production of Shakespeare's Romeo and Juliet, performed at Rack Close
Our Salisbury International Arts Festival will include a range of music events for the whole family, including With The Beatles, celebrating the 60th anniversary of The Beatles' performance at Salisbury City Hall in 1963; Old Dirty Brasstards with their cross-genre eclectic party covers; as well as blues and jazz sensation Elkie Brooks performing her numerous hit singles at the Playhouse. Artistic Director of La Folia Howard Moody returns with a transporting evening of Bach's Musical Offering in collaboration with Best Foot Music, interwoven with music and poetry from across the world at St Thomas' Church.
Motionhouse bring their new circus production Starchitects, to the Playhouse on 14 June; Farm Yard Circus at Rack Close, is a family-friendly farmyard-inspired eclectic mix of acrobatics, juggling, theatre and live music. Gyles Brandreth and Susie Dent bring their award-winning comedy podcast Something Rhymes with Purple to the Playhouse stage, with other comedy events from Marcus Brigstocke and Lucy Porter. The festival will also feature exhibitions and films across Salisbury.
Outside Salisbury International Arts Festival, we are also excited to announce our other Summer Festival Season events, including Musical Theatre Salisbury's production of Legally Blonde, returning to the Playhouse stage this July; and the hugely popular Beerex festival, returning for its 41st year at Salisbury Arts Centre from 7 – 8 July.
Priority booking opens: 14 March
General booking opens: 21 March