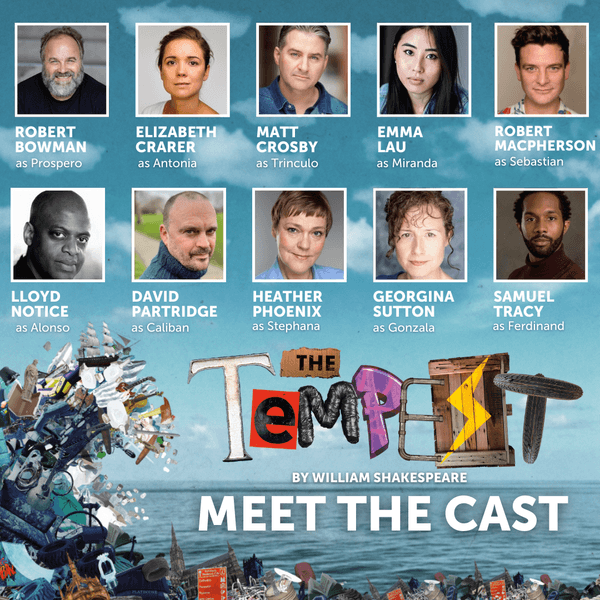 The Tempest Cast Announced!
News
Cast and Creatives Announced for The Tempest in Churchill Gardens
19 Apr 2023
News Story
We are thrilled to announce the full cast and creative team for our flagship summer production The Tempest. Much of the cast have roots in Salisbury or have previously performed in previous productions with us and are returning for this bespoke, community led project. Our Artistic Director Gareth Machin, directs Robert Bowman (Prospero), Elizabeth Crarer (Antonia), Matt Crosby (Trinculo), Emma Lau (Miranda), Robert MacPherson (Sebastian), Lloyd Notice (Alonso), David Partridge (Caliban), Heather Phoenix (Stephana), Georgina Sutton (Gonzala) and Samuel Tracy (Ferdinand).
The Tempest opens the Salisbury International Arts Festival 2023 on 26 May, with previews from 24 May and runs until 4 June. The production, staged in Salisbury's Churchill Gardens, designed by Dan Potra features sound design by Mike Beer, movement direction by Khiley Williams, casting by Gabrielle Dawes CDG and musical supervision by Kate Edgar.
Artistic Director Gareth Machin said today: "It's a huge privilege to be working with such a fantastic company of actors on this incredible play. With many of the actors based locally or former members of our youth theatre, Stage '65, it's a brilliant celebration of the creative talent in our city and region."
The cast includes actors returning to Wiltshire Creative following performances in our previous in house shows including Stage 65 alumni David Partridge from Bedroom Farce, and The Recruiting Officer and Georgia Sutton from Her Naked Skin. They will be joined by members of the local community in Salisbury for this bespoke project. The Tempest is a continuation of recent multi-art form projects involving collaboration between professionals and the community such as Congress, Stone Songs, Earth Rise and Bath Philharmonia concert.