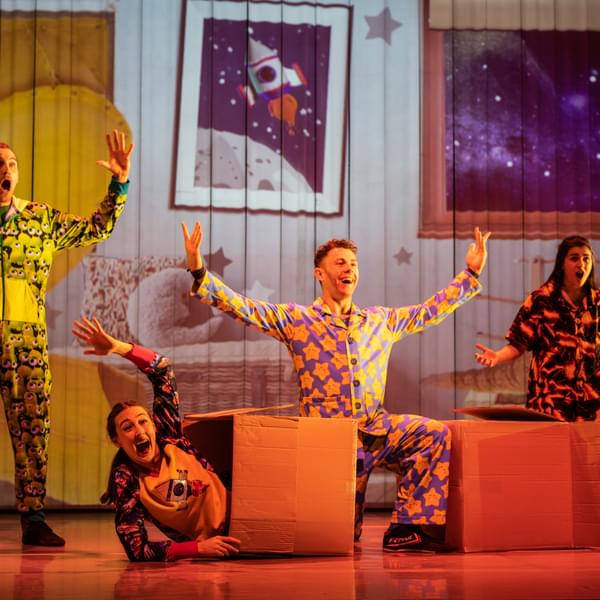 Starchitects Coming to Salisbury
News
25 Apr 2023
News Story
Families in Wiltshire are in for a treat this June, with an exceptional opportunity to experience the work of world-renowned dance-circus company Motionhouse in Starchitects, a show made especially for children and families, at Salisbury Playhouse at 1pm and 7pm on 14 June 2023 as part of the Salisbury International Festival.
In Starchitects, five children dream of reaching the moon from their bedroom. The audience joins them as they plan and fulfill their daring mission. Their Executive Director Louise Richards sums up the show perfectly;
Louise Richards, Executive Director: "Full of fun and thrilling surprises, Starchitects is engaging for audiences of all ages – from tiny tots to older siblings, parents and grandparents, who can all enjoy and join the magical adventure. Starchitects is a visual spectacle using the incredible dance-circus and digital projections that Motionhouse is renowned for, with an easy-to-follow fun and imaginative storyline, making it a perfect outing for the whole family."
There will also be a Meet the Characters after the show which is included in the ticket.


For more information and to book your tickets, click here

It's rare, I think, for a show to truly delight audiences of all ages but Starchitects ticks that box

Audience Member, Bluestone Wales
Honestly can't recommend this show enough! We went yesterday and my 3-year-old daughter and 7-year-old nephew were completely transfixed

Audience Member, Bluestone Wales