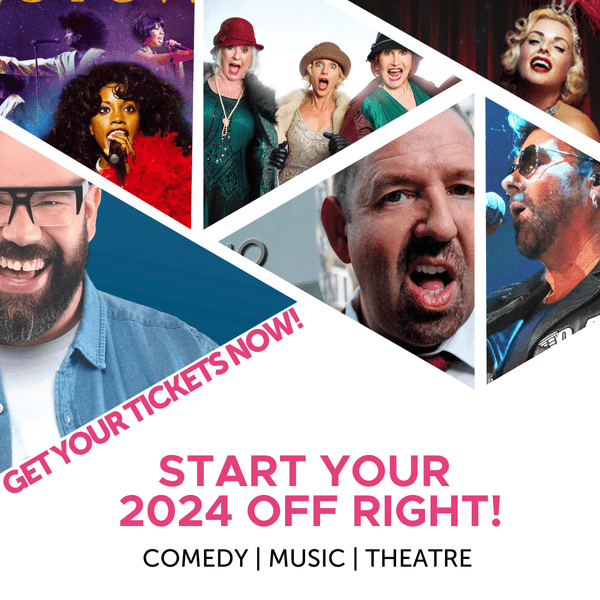 Spring One Nighters Announced
News
1 Aug 2023
News Story
Coming to Salisbury Playhouse in early 2024 for one night only
We are excited to bring a spectacular selection of one-night-only shows to Salisbury Playhouse early next year, which are guaranteed to spice up any winter evening!
From stand-up comedy and burlesque to tribute acts and music, there's something for everyone to enjoy. Get ready to be entertained by an extraordinary mix of talent gracing our stage.
General sale opens at 10am on Wednesday, 2nd August, but our valued Supporters will have access to tickets from 10am today, 1st August.

Sign up to become a Supporter and get your tickets today!
Fastlove: The Tribute to George Michael - January 25th

Pay homage to the late music legend George Michael at this stunning tribute show, which will take you on a journey through his greatest hits. Dance and sing along to timeless classics such as "Careless Whisper," "Faith," and "Wake Me Up Before You Go-Go".
Tom Davis: Underdog - January 27th
Hilarious comedian Tom Davis is set to unleash his wit and humour in his latest show, Underdog. Known for his unique style and brilliant storytelling, Davis promises an evening of laughter that will leave you in stitches.

I, Clara - January 30th
Experience the mesmerising fusion of classical music and spoken word as Lucy Parham performs the breathtaking works of Clara Schumann. Dame Harriet Walter's compelling narration of Lucy's words adds depth to the performance, creating an unforgettable and emotionally rich experience.
Magic of Motown - January 31st
Get ready to groove to the unforgettable sounds of Motown with this high-energy tribute show. Dance along to iconic tunes from the likes of Stevie Wonder, Diana Ross, Marvin Gaye and many more at a show that celebrates the golden era of soul music.
An Evening of Burlesque - February 1st
Step into a world of glamour and seduction with "An Evening of Burlesque." This tantalising show promises an unforgettable night of dazzling costumes, sultry performances and breathtaking acts that capture the spirit of traditional burlesque.
Fascinating Aida - February 3rd

Prepare to be captivated by the sensational cabaret trio, Fascinating Aida. With their witty humour and satirical songs, they promise an evening of laughter, music and biting social commentary.
Alfie Moore: A Face for Radio - February 3rd
This former police officer turned comedian is set to delight the audience with his hilarious take on life's peculiarities. With a razor-sharp wit and clever insights, Moore's show is a must-see for comedy enthusiasts.
Don't miss your chance to experience these remarkable one-night shows at Salisbury Playhouse as we kick off our spring season.