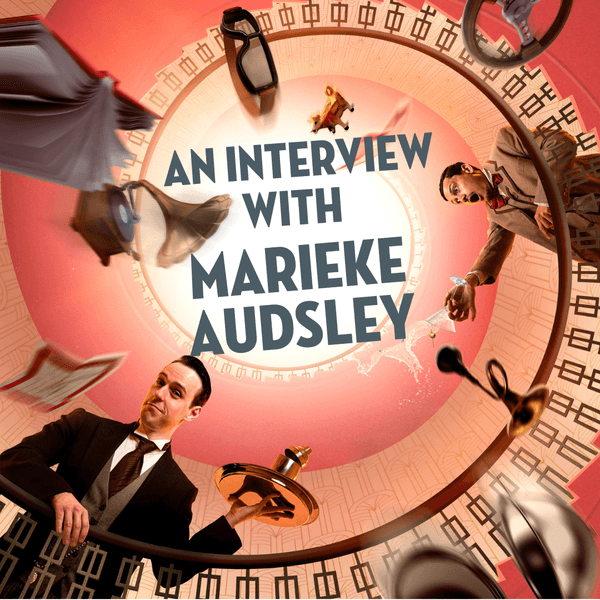 Marieke Audsley interview for Salisbury and Avon Gazette
News
7 Aug 2023
News Story
Rehearsals are now underway for Jeeves & Wooster in Perfect Nonsense, so we wanted to share this amazing interview with our wonderful director, Marieke Audsley:
Wiltshire Creative with Octagon Theatre are bringing the much-loved characters Jeeves and Wooster to Salisbury Playhouse. The play, Jeeves and Wooster in Perfect Nonsense, is an adaptation of P.G. Wodehouse's The Code of the Woosters by brothers Robert and David Goodale. It premièred at Duke of York's Theatre in 2013 winning the 2014 Olivier Award for Best New Comedy.
The director, Marieke Audsley, took time to chat to me ahead of three-week rehearsals. "I'm thrilled to be working on this hilarious adaptation of P.G. Wodehouse's much-loved novel. It's such an honour and responsibility to bring this work back to the stage," Marieke said. "I'll be working with actors Luke Barton, Patrick Warner and Alistair Cope. This will be pure wonderful Wodehouse with an art deco set, and period costumes. We have a fantastic creative team conjuring up the fabulous world of Berkeley Mansions and Totleigh Towers and it will be a stylish and playful version of the story with a lot of theatrical surprises"
In advance of rehearsals Marieke has insisted on two things. "I've asked the actors to learn their lines in advance and that props are supplied from day one. Comedy is all about timing, so it's important to spend the rehearsal period exploring and perfecting the staging, character changes and all of the 'business' with the set, costumes and props, rather than using the time to learn lines."
How hard will it be working with three actors who have to create multiple personalities on stage? Luke stays as Bertie throughout, but Patrick and Alistair both have to play multiple roles and often have to change characters extremely quickly, so one of the challenges in rehearsals will be to ensure that each character is really distinct and every switch is seamless." Marieke said. "I worked with Alistair Cope on a very funny adaptation of Madame Bovary at the Jermyn Street Theatre last year, in which he played 18 different roles, so 'only' playing six, should feel like a comparative walk in the park!
It must be very hard for a Director to let go of a play once it is up and running? "We will have worked in an intense bubble for three weeks and then the first night is the beginning of the handover," Marieke said. "I have to let go and let allow the actors and the audience take over. I will return now and then to check in with the cast and see how the play and the characters are developing. Occasionally there are things that need tweaking, but usually it's just really fun to see the way in which the audience and their responses become woven into the show and how the actors share the story with them."
Marieke has always loved working in the theatre. "I was involved with drama from a young age, acting in school plays and attending drama clubs at the weekend and in the holidays. At university I began directing student productions and was really bitten by the bug, so I went on to do a masters in directing at Birkbeck College. The course involved a placement as Resident Assistant Director at Sheffield Theatres, with the wonderful Daniel Evans as my mentor. After Birkbeck I got a job assisting the amazing comedy director Sean Foley, who taught me an enormous amount about directing funny plays and helped me to embark on my own professional directing career."
"I am really looking forward to being in Salisbury. I have many happy memories of driving past Stonehenge on the way to family holidays nearby. I have quite a few friends who live close to the theatre and it will be lovely to spend some time with them and explore the city, during breaks from rehearsals."
Marieke is one of the few women who almost exclusively directs comedies, although things are changing, it's still an area mostly dominated by men. Her credits include: Ladies' Day (New Vic & Octagon), The Massive Tragedy of Madame Bovary! (Jermyn Street Theatre), The Hound of the Baskervilles (East Riding Theatre), and Maxine Peake's play Beryl (Arcola Theatre).
Jeeves and Wooster in Perfect Nonsense, by Robert and David Goodale, runs from 1 September - 23 September, before completing performances at Octagon Theatre Bolton from 4 – 21 October. This promises to be a proper good, fun theatrical night out for everyone.