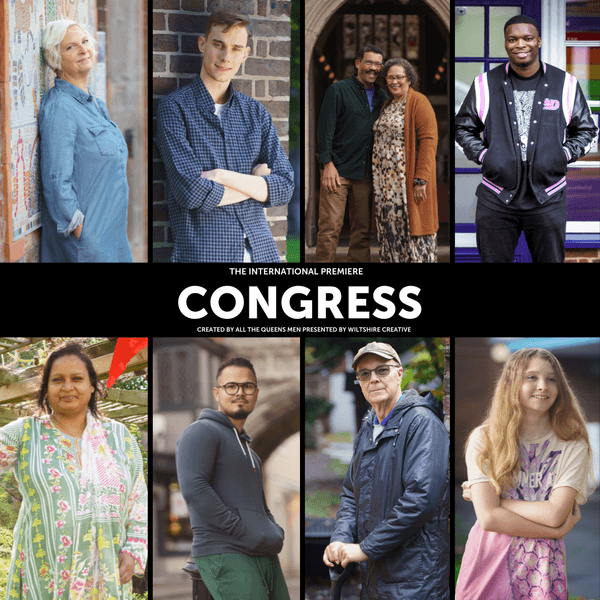 Congress
News
The international premiere presented by Wiltshire Creative & All The Queens Men
29 Oct 2022
News Story
WHAT WOULD YOU DO IF YOU HAD THE WORLD'S UNDIVIDED ATTENTION?
A citizens' assembly.
A series of first speeches from voices often unheard.
Personal visions for our collective future.

In 2022, we were delighted to host the international premiere of a truly remarkable event, Congress, which was created by Australian independent arts organisation All The Queens Men and saw members of our local community take the stage to make their very first public speeches.
From the breathtaking setting of Salisbury Cathedral, our speakers reflected on their hopes and dreams for the future as well as topical subjects close to their hearts. They were specially invited to represent the diversity of our city and collaborated with professional wordsmiths to craft their speeches, which were interspersed with striking dance and movement performances. Acknowledging the world's seismic experiences across the past two years, Congress was shared just for this place and shared once, just for this time, a new time.
As the lights dimmed in this iconic venue on Saturday, 29th October in 2022, the crowd quietened as hundreds of people came together "to listen to voices that are not often heard". It was a moving, atmospheric and often uplifting night of performance and spoken word unlike any other.
All The Queens Men, based in Naarm/Melbourne, was founded by acclaimed artists Tristan Meecham and Bec Reid. It collaborates with communities of all shapes, sizes and identities to produce transformative creative experiences that champion equality, social health, and human connection, and their projects have been presented globally.
WATCH THE HIGHLIGHTS FROM THIS UNFORGETTABLE EVENT
Image gallery
TAKE A LOOK BACK AT CONGRESS