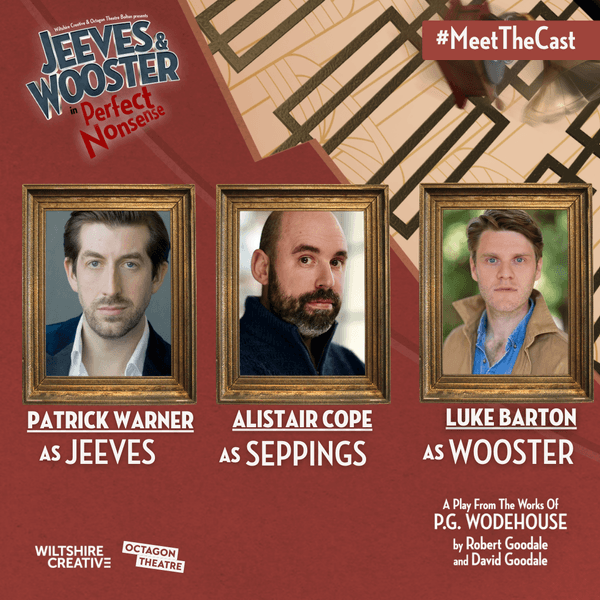 Cast Announcement for Jeeves & Wooster in Perfect Nonsense
News
5 Jul 2023
News Story
We are thrilled to announce the full cast and creative team for Jeeves and Wooster in Perfect Nonsense that we are co-producing with Octagon Theatre Bolton. Marieke Audsley will be directing Luke Barton (Bertie Wooster), Patrick Warner (Jeeves) and Alistair Cope (Seppings). The production will feature design by Olivia du Monceau with lighting design by Jane Lalljee and sound design by Matt Eaton.

Bringing P.G. Wodehouse's iconic duo to life, the highly perceptive Jeeves will be played by Patrick Warner, whose acting credits include The Crown on Netflix and Mischief Theatre's The Play that Goes Wrong. You may also remember him from the popular touring show SPIKE that came to Salisbury Playhouse in 2022.
Bringing the comedic and somewhat limited intellect of Bertie Wooster to life will be Luke Barton (The Lost Estate's Hound of The Baskervilles, Nuffield Theatre's and New Wolsey's One Man and Two Guvnors and BBC's Doctors) and the brilliant Seppings will be played by Alistair Cope (National Theatre's People, Places and Things and BBC One's The Platinum Jubilee Celebration: A Gallop Through History).
Director Marieke Audsley said today, "I'm thrilled to be working with Wiltshire Creative and the Octagon on this hilarious adaptation of P.G. Wodehouse's much loved classic novel, The Code of the Woosters. We have a really exciting cast to bring Bertie, Jeeves, their friends (and foes!) to life, and a wonderful creative team to create the fabulous world of Berkeley Mansions and Totleigh Towers. Both dedicated Wodehouse fans and anyone new to Jeeves and Wooster can look forward to a fantastically farcical and fun evening out!"
Don't forget, when you book for both Wiltshire Creative productions this season you save!Purchase your tickets for Jeeves & Wooster in Perfect Nonsense and The Girl on the Train at the same time and save 15%.