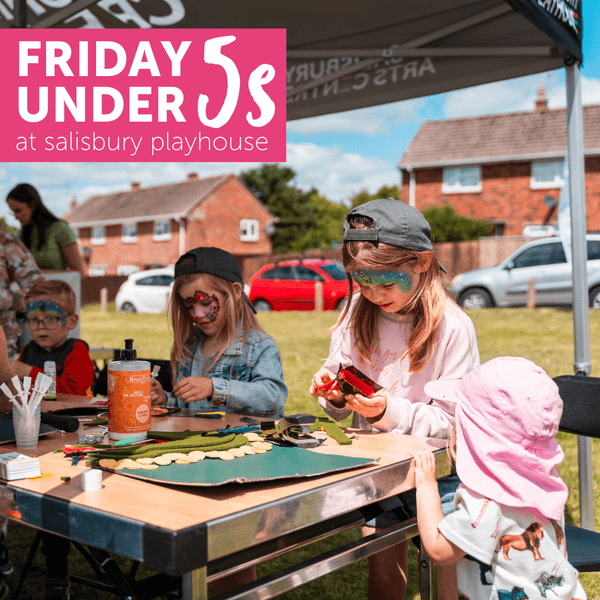 Friday Under 5s: Spring 2024
What's on
Take Part Programme
5 Jan - 22 Mar
Main venue

Tickets

£5 per child/£3 per adult

Ages

2-5

Duration

45 minutes
Book tickets
About Friday Under 5s: Spring 2024
Join us at Salisbury Playhouse every Friday for a fun workshop exploring different art forms each week, including dance, drama and art. These sessions are designed for under 5s and their grown-ups to enjoy together! Please read the information on each weekly session.
Some sessions are free, whilst others cost £5 child/£3 adult. Booking is essential for all sessions.
Catch Creative (Emma Newman)
12th January, 9th February, 8th March
Join Emma from Catch Creative in our early year's drama sessions aimed at 2–5-year-olds on the 2nd Friday of every month! These sessions encourage and nurture creativity, passion and teamwork through make believe playing and games using a variety of props and music. Inspired by familiar themes and children's stories to engage the young children to participate.
Story Time Movers (Hatti Dawson, Panthera Dance)
26th January, 23rd February, 22nd March
Join Hatti from Panthera Dance Company for our early years dance sessions aimed at 2–5-year-olds, Story Time Movers on the 4th Friday of every month! These fun sessions encourage physical and cognitive development through creative movement. Inspired by familiar story books, the sessions will allow children to explore their own imagination.
Stay and Play
5th January, 2nd February, 1st March
'Stay and Play' is an under 5's activity that encourages play and creativity on the 1st Friday of every month! An informal session to unlock and stretch the imagination with activities such as fun dress up with costume and props, story corner, exploring sound with our early years instruments and colourful crafts.
SmARTies
19th January, 15th March
smARTies is an early years arts and crafts session, where children develop their creativity by exploring different art forms and materials. Children and grownups create together through hands-on, multi-sensory activities. SmARTies takes place on the 3rd Friday of every month!
No session on the 16th February due to Half Term.